From The Anvil Waxed Range
From The Anvil Waxed Range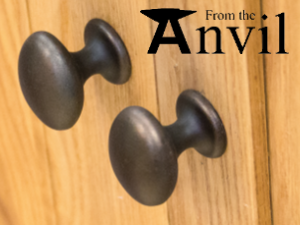 The beeswax finish is the most authentic finish for steel. When our highly skilled blacksmiths have finished forging this product the colours left in the steel range from blue to deep red ochre. To preserve these beautiful colours and the texture from the hammer and anvil, we apply pure beeswax. This gives a subtle, matt richness to the metal and offers excellent protection when products are fitted internally and properly maintained. To bring out the best in our original Beeswax Finish we advise that before installation it is given a buff with a soft cloth.
Using maintenance wax will help restore the finish and give protection to this product. Buffing with a cotton cloth will remove the white bloom. If surface rust occurs, rub with 00 grade wire wool and apply Anvil Maintenance Wax with a rag. All moving parts should be oiled prior to fitting and periodically afterwards.
Warning: The chemicals in wet plaster will rust this product. Always fit ironmongery when plaster is fully dry.