Combitech Tubular Baseboard Construction System
Combitech Tubular Baseboard Construction System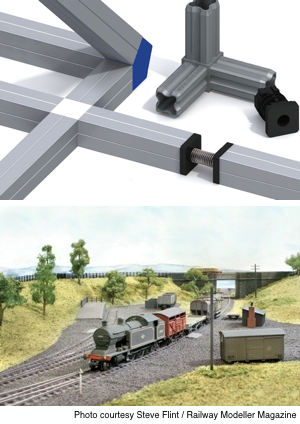 COMBITECH TUBULAR ALUMINIUM & PLASTIC FRAMING SYSTEM FOR MODEL RAILWAY BASEBOARDS, LEGS & LIGHTING GANTRIES
A.C. Sissling are stockists of Combitech®, a quality German tubular framing product utilising both aluminium and plastic materials. It is ideally suited for the rapid construction of very strong and lightweight model railway layout baseboard frames, supporting legs and lighting gantries. The only real skill required is the ability to cut the tubing square with a hacksaw. The only tools required are a hacksaw, a file or deburring tool and a soft-faced hammer.No messy sawdust, no waiting for adhesives to cure or laborious pinning, screwing etc. Once your tubing is cut to length and deburred assembly only takes a matter of minutes with a mallet or hammer.
The tubes feature unique drill guide grooves on each face or at 90 degree quadrants on round tube so your pilot holes etc will be central each time. Full board tops or partial trackbed tops of ply, Sundeala or MDF are easily attached using self-tapping pozi screws. Trackbeds can go directly on the main subframe or on risers.
The 19.5mm dia round tube is an easy sliding fit within the 23.5mm square tube and can be used to create slot-in support legs etc. The square tube with a branch can be used to hold end-face panels at board joints to take dowels and connecting bolts etc. It can also be used to create mounting points for legs and gantries etc.
The range of polyamide connectors means that a wide range of shapes and designs can be created - the only limit is your own imagination and ingenuity!
Tags: Model Railway Baseboards