Combitech Frame System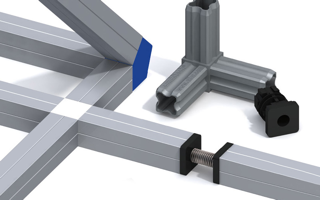 COMBITECH TUBE - ALUMINIUM & PLASTIC TUBULAR FRAMING SYSTEM for Trade, Industry, DIY, Hobby and Craft
Whether for shelf construction, a dog crate for the car, a swing or a model railway baseboard: the Combitech® system can be universally used and forms the basis of innumerable applications in the home or workplace – your creativity knows no bounds. Its qualities are even clear when it comes to model construction. The metals used include not only aluminium but also PVC plastic.
Combitech® connect: stable polyamide connections
The combitech® connect connectors can be used to simply connect 23.5 mm square tubes. Whether frames, shelves or anything else you wish to build, the stable polyamide connectors hold everything together. The different shapes can be used for different connections. Angle, corner, cross or T-connectors as well as nodes with 5 or 6 spigots at a 90° angle are supplemented by several connectors at 45° and numerous accessories such as the flange, hinge-flange and hinge connectors, end caps and adjustable foot.