D&D Technologies TRUCLOSE HEAVY Legged Wood, Vinyl & Metal Gate Hinges (2 Legs) Ref TCHD1L2S3BT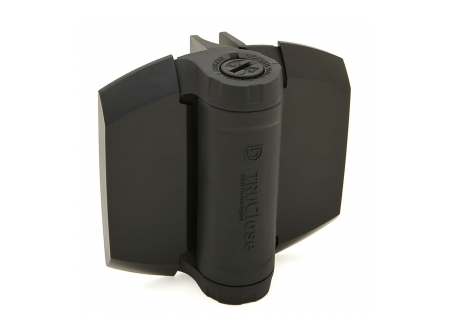 D&D Technologies TRUCLOSE HEAVY Legged Wood, Vinyl & Metal Gate Hinges (2 Legs) Ref TCHD1L2S3BT
Description
Make aligning heavy-duty gates quick and easy.

TruClose Heavy-Duty - 2 Alignment Legs - To suit Wood, Vinyl and Metal Gates.

- Suitable for gates upto 70 Kg

- Convenient, reliable performance

- Quick, self-closing adjustment

- Smooth, even closure

- No visible fasteners

- Optional decorative trim covers (black)

- Super strong polymer construction and stainless steel components means no rust or corrosion.

- Black finish

- For gate to post gaps 6 - 25mm (ideal gap 19mm)

- Easy install

TruClose Heavy-Duty Alignment Legs hinges deliver dependable TruClose reliability for pool safety and general-purpose gates around homes and yards, as well as high-traffic gates. These hinges are ideal for retrofitting existing gates as they will fit to gate gaps ranging from 1/4"- 1" (6-25mm).

Special Quick-Fit alignment legs are available as options on most TruClose models. They make aligning the hinge on the gate and fence post quick and easy, as well as adding extra strength due to the additional fixing points.
Product Code: D180135
| Qty | Price | Per |
| --- | --- | --- |
| 1 | 73.50 inc. VAT | PAIR |
| 2 | 69.83 inc. VAT | PAIR |
| 3 | 66.14 inc. VAT | PAIR |
| 4 | 64.31 inc. VAT | PAIR |
| 5 | 62.47 inc. VAT | PAIR |
| 6 | 58.80 inc. VAT | PAIR |