D&D Technologies DECORATIVE Adjustable Wood & Vinyl Gate Hinges Ref TCA4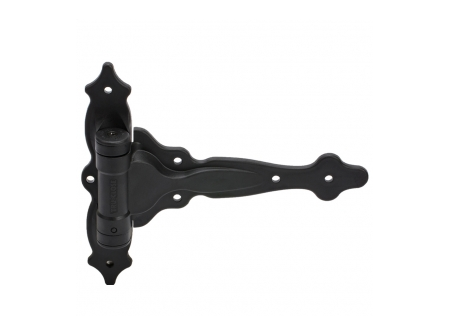 D&D Technologies DECORATIVE Adjustable Wood & Vinyl Gate Hinges Ref TCA4
Description
Ornamental gate hinges for gates up to 55 lbs/25 kg

TruClose Deco Mold for wood and vinyl gates.

- Stylish and adjustable

- Adjustable tension

- For gate gaps 6 - 22mm

- For wood gates

- Black finish

- Super strong polymer construction and stainless steel components means no rust or corrosion.

Our T-style decorative gate hinges are designed to the same top-quality specifications as the rest of the TruClose range, and bring an old-world charm to your gates!

They're also self-closing, with adjustable tension for a smooth close every time.

Suitable for gates up to 55lb. (25kg.) and able to withstand loads up to 450lb. (205kg.), they're designed for use on wood and vinyl gates.
Product Code: D180160
| Qty | Price | Per |
| --- | --- | --- |
| 1 | 48.22 inc. VAT | PAIR |
| 2 | 45.80 inc. VAT | PAIR |
| 3 | 43.39 inc. VAT | PAIR |
| 4 | 42.18 inc. VAT | PAIR |
| 5 | 40.98 inc. VAT | PAIR |
| 6 | 38.57 inc. VAT | PAIR |