D&D Technologies LOKKLATCH DELUXE Gate Latch Ref LLDABLRB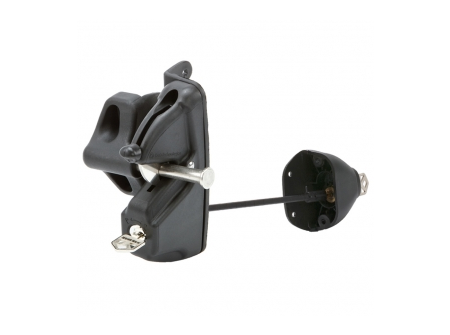 D&D Technologies LOKKLATCH DELUXE Gate Latch Ref LLDABLRB
Description
LokkLatch Deluxe

- Reliable latching action

- Operates & locks from both sides of the gate

- Re-keyable, 6-pin security locks

- Strong & 100% rust proof

- Fully adjustable

- Quick & easy install

- One model fits all square posts and gate frames

- Black finish

The LokkLatch Deluxe is a high quality security and privacy gate latch for general-purpose gates. Special, longer side-fixing legs on this model provide extra strength and easy fitting alignment.

The LokkLatch Deluxe with strong, molded polymer construction with stainless steel components, takes an innovative approach to the gravity latch principle and combines the unique benefits of key-lockability and reliable latching action with superior design and rust-proof components. The External Push-Button Access allows the gate to be opened and locked from either side of the fence.

The LokkLatch Deluxe also offers a high degree of versatility, as it is adjustable both vertically and horizontally to ensure proper fit and reliable operation. This latch suits all square post gate (up to 6" / 150mm) and fencing materials as well as left or right hinged gates for easy installation.
Product Code: D180015
| Qty | Price | Per |
| --- | --- | --- |
| 1 | 89.45 inc. VAT | EACH |
| 2 | 84.98 inc. VAT | EACH |
| 3 | 80.51 inc. VAT | EACH |
| 4 | 78.28 inc. VAT | EACH |
| 5 | 76.03 inc. VAT | EACH |
| 6 | 71.57 inc. VAT | EACH |