D&D Technologies MINI MULTI Adjustable Wood, Vinyl & Metal Gate Hinges (2 Legs) Ref TCAMA1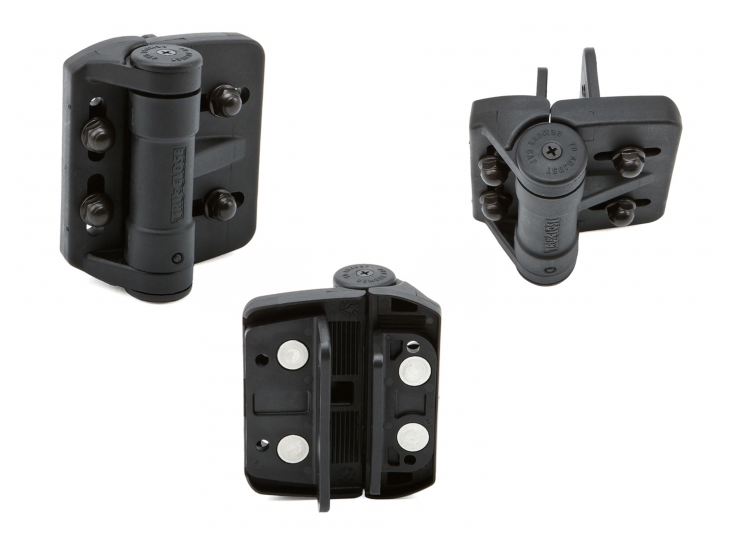 D&D Technologies MINI MULTI Adjustable Wood, Vinyl & Metal Gate Hinges (2 Legs) Ref TCAMA1
Description
Multi-adjustable, self-closing gate hinges for square frame gates.

TruClose Regular - Mini Multi

- For square frame gates

- Horizontal & vertical tension adjustment

- Self-closing up to 55 lbs/25 kg

- 22 to 36mm gate gap (ideal 29mm)

- Black fiinsh

- Super strong polymer construction and stainless steel components means no rust or corrosion.

Highly adjustable gate hinges for regular gates.

You won't settle for just any hinge on your gate when you know can have the best. Turn to TruClose and you'll always look at your fence with peace of mind. TruClose gives you self-closing action, along with dual adjustability for gate weight and closing speed.

Suitable for gates weighing up to 55 lb. (25 kg.), Mini Multi offers a large range of adjustability to make installation even easier!

With up to 1 1/8" (35mm) of horizontal adjustment and 3/4" (19mm) of vertical adjustment, they are suitable for installation on any type of gate material.
Product Code: D180155
| Qty | Price | Per |
| --- | --- | --- |
| 1 | 77.35 inc. VAT | PAIR |
| 2 | 73.49 inc. VAT | PAIR |
| 3 | 69.62 inc. VAT | PAIR |
| 4 | 67.69 inc. VAT | PAIR |
| 5 | 65.75 inc. VAT | PAIR |
| 6 | 61.88 inc. VAT | PAIR |