D&D Technologies MULTI-ADJUST Legged Wood & Vinyl Gate Hinges (2 Legs) Ref TCHDMA1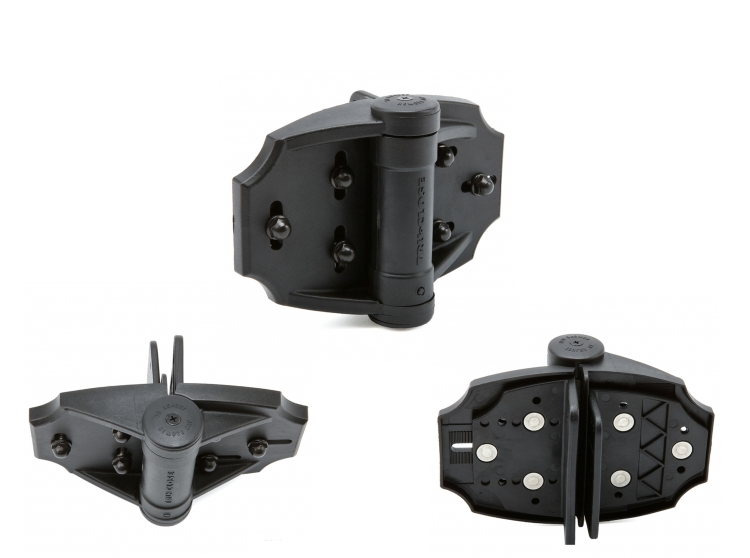 D&D Technologies MULTI-ADJUST Legged Wood & Vinyl Gate Hinges (2 Legs) Ref TCHDMA1
Description
The world's most adjustable gate hinge.

TruClose Heavy-Duty Multi-Adjust

- Convenient, reliable performance

- Quick, self-closing adjustment

- Smooth, even closure

- Easy install

- Black finish.

- Super strong polymer construction and stainless steel components means no rust or corrosion.

- 16 to 35mm gate gap (ideal 25mm)

Suitable for gates weighing up to 132lb (60kg). TruClose Heavy-Duty Multi-Adjust Hinges offer a large range of adjustability to make installation even easier!

They offer adjustable spring tension as well as 3/4" (19mm) gap adjustment, combined with up to 3/4" (19mm) horizontal and vertical adjustment.

Multi-Adjust Hinges are suitable for use on vinyl and wood gates.
Product Code: D180150
| Qty | Price | Per |
| --- | --- | --- |
| 1 | 91.58 inc. VAT | PAIR |
| 2 | 87.00 inc. VAT | PAIR |
| 3 | 82.43 inc. VAT | PAIR |
| 4 | 80.14 inc. VAT | PAIR |
| 5 | 77.84 inc. VAT | PAIR |
| 6 | 73.27 inc. VAT | PAIR |