Zoo ZAA004i Turn & Release with Indicator 5mm SAA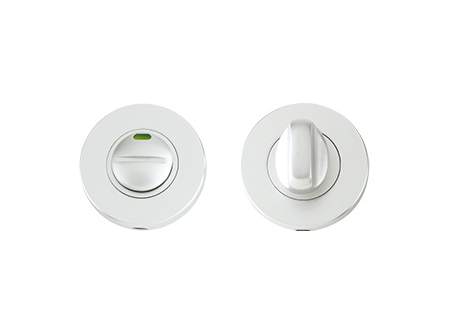 Zoo ZAA004i Turn & Release with Indicator 5mm SAA
Description
Privacy thumbturn and release set with small external red/green occupancy indicator feature.

Heavy duty for both commercial and domestic use.

Satin Anodised Alumnium.

52mm Diameter.

Push-on rose.

5mm spindle.

Supplied with screws.

BS EN 1634-1. Suitable for fire doors FD30/60

ZAA004iSA - Satin Anodised Aluminium

For matching escutcheons please see linked items below.
Product Code: Z03ZAA004ISA
| Qty | Price | Per |
| --- | --- | --- |
| 1 | 13.88 inc. VAT | SET |
| 2 | 12.49 inc. VAT | SET |
| 5 | 11.80 inc. VAT | SET |
| 10 | 11.10 inc. VAT | SET |
| 20 | 10.40 inc. VAT | SET |
| 30 | 9.72 inc. VAT | SET |